Hotel uniform | Chef Uniform in Delhi, India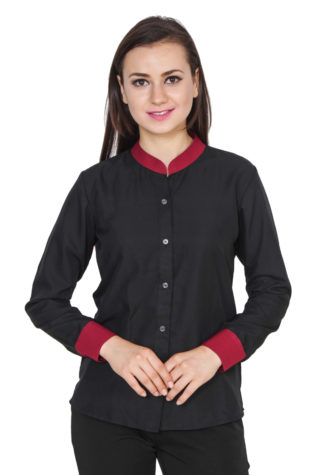 A professional image is crucial for success in the hotel industry, and hospital uniform can help set your staff apart from the competition. The right uniform can set the stage for a positive first impression. Staff members who feel confident and professional in their uniforms are likely to provide better service, and when the uniform is consistent with your hotel's brand and identity, guests will feel comfortable and well-tended by your staff.
Uniform Bucket is sufficient to cater your entire uniform requirement, you can find all kinds of work wear that are elegantly designed and created by finest hands. We create amazing tailored solutions, supplying everything right from corporate uniform to products like caps and ties. Our customized uniform design service delivers innovative solutions for both Corporate Clothing and Work Wear alike, ensuring that your valuable brand is presented aptly at every opportunity.
Choose Hotel Uniform to make a sound impact
Uniform Bucket has everything you could possibly need from a work uniform, at a price that suits your budget. Our latest Hotel uniform design and best selection of fabric and cutting style mean that you'll never lose out on quality or finish.
Uniform Bucket is a company that brings something different and desperately needed Hotel uniform design, modern well-cut attire made from comfortable workable fabrics. Countless hours of research into materials and accessories have given us the edge in terms of providing the industry with what it truly wants and needs Uniform Bucket Hotel uniforms including; Chef Coat, Chef Apron, Chef Cap, Chef Trouser, Chef Neckerchief, Chef Bandana, Hotel Front office uniform, Hotel Blazer, Uniform Shirt, Uniform Skirt, Uniform Trouser, Uniform Tie, Uniform Dresses, Uniform Tops, Uniform Tunics, Bib Apron, Bistro Apron, Waist Apron, Knee Length Apron& many Our stunning collection has something for everyone with several gorgeous designs and exciting colours.
Uniform Bucket wear fits you beautifully and makes you feel amazing, your employees will look and feel great wearing our salon uniforms and your clients will notice the positive difference in their performance.
So, Experience the visible positive difference in your Employees and client with uniform bucket Hotel Uniform in Delhi.
Find finest uniforms and products under one roof
We have a strong foothold in the industry as we are backed by a creative team and decade long experience. We are leading the pack in areas like designing, cutting, stitching and also in thinking 'out-of-the-box' ideas. Our sound expertise is based on experience gained through years of handling the uniform requirements for many leading brands. We have received a lot of appreciation for our customized solutions that are available under one roof at affordable prices.
Deals in following item
Chef Coat Delhi
Chef Apron Delhi
Chef Cap Delhi
Chef Trouser Delhi
Chef Neckerchief Delhi
Chef Bandana Delhi
Hotel Front office uniform Delhi
Hotel Blazer Uniform Delhi
Uniform Shirt
Uniform Tie
Uniform T-shirt
Bib Apron
Bistro Apron
Uniform Skirt
Uniform Dresses
Uniform Tunics
Uniform Tops